Electric Formula One (EF1) Pylon Racing Comes to Sanderson Field
---



On July 23, 2011,

the Pylon Racers of Puget Sound (PROPS) introduced EF1 racing at Sanderson Field, Shelton, WA. Nine pilots participated in the event and brought with them 10 EF1s, all E-flite Pogos except for an early Little Tony belonging to Dan Nalley. The pilots flew Pogos exclusively during the two days of racing.



The course was 425 feet long

and used three pylons. This course was created by placing a portable pylon between the long-course pylon 1 and pylons 2 and 3—a very easy course adjustment. The course length was chosen to result in a 10-lap time for experienced pilots of about 1:25. The fastest time was posted by Tom Strom Sr. of just over 1:23.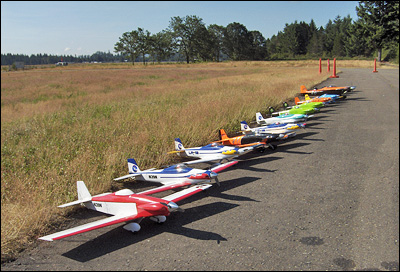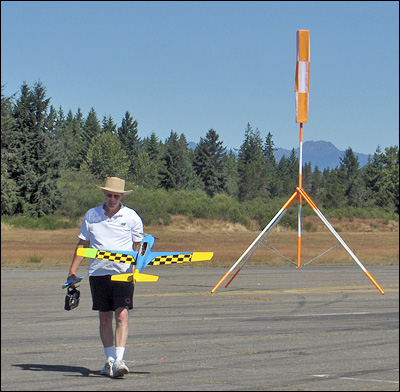 Both pilots and spectators enjoyed

the EF1 races. For the spectators, it was easier to see and follow the races on the shorter course. For the pilots, the EF1s were just plain fun to fly—especially after several heats during which the pilots became more familiar with both their aircraft and the course. There were some exciting races among the pilots.



On the whole,

the pilots had little difficulty with the Pogos. There were one or two ground loops on launch and an engine failed to arm a couple of times. Most of the pilots found that launches were easier when using the caller at the flight line during the launch: the caller could hold the plane while the pilot advanced the throttle, thus eliminating the ground loop problem on takeoff. Not all pilots used a caller at the flight line during launch, though, and those who didn't were still able to launch reliably with careful attention to throttle and rudder control. All pilots particularly liked not having to walk to retrieve their planes after landing: they just taxied the EF1s home.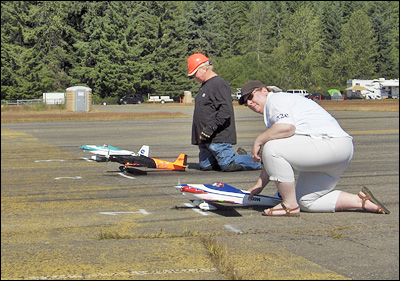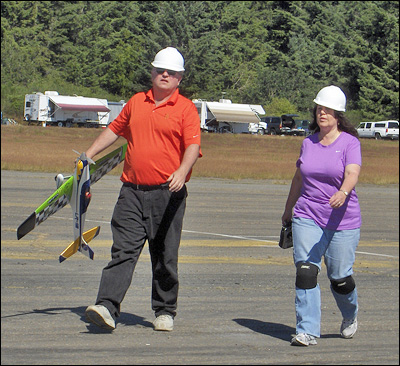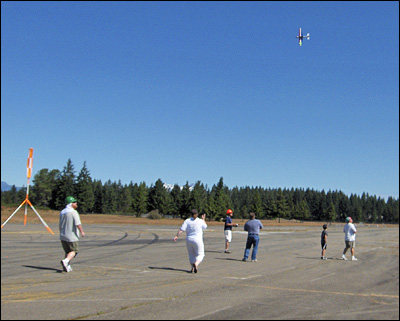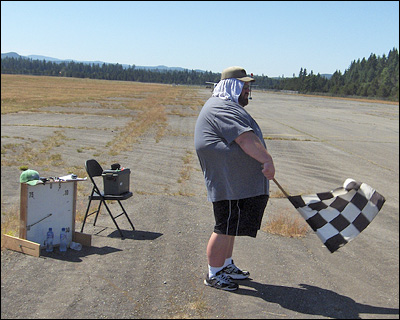 Everyone who participated

in this first-ever EF1 flying at Sanderson Field is looking forward to the *big* event on August 20-21 -- Pylon Race North vs South. It is expected that the EF1 registration will be significantly larger. The North vs South event gets bigger each year and, because of the great air at Sanderson Field, times tend to be faster around the courses. Contact Props to register for this Sanderson Field event—or just show up and enjoy the fun.



Pilots for this historic event

were Dan Nalley, Eric Ide, Tom Strom Sr., Tim Strom, Marc Winz, Steve Mortenson, John Riley, Tom Strom Jr., and Joe DeLateur.




Resources









---



I hope you enjoyed this article,




Royce Tivel


---
© Copyright 2008-2011 by Royce Tivel. All Rights Reserved.