Learning to Fly at SFRCF
---
By the time you read this article, it is possible that Christmas will have come and gone. Many individuals, unfamiliar with radio-controlled(RC) airplanes, will be looking forward to flying new aircraft. These lucky future pilots, and those who are still thinking about entering the hobby, might benefit from the experiences of an RC pilot still in flight training.
I am now a senior citizen and have been interested in model airplanes since I was a youngster. Although I had many false starts in the past, I never earned my wings as an RC pilot. I decided to try again.
My first step was to join the local RC club, the Sanderson Field RC Flyers(SFRCF). I knew that I would need help in selecting a training aircraft and in learning to fly. Learning to first fly something other than a trainer aircraft and without an experienced flight instructor can quickly end, at the very least, in a crash.
Besides the club-membership fee, and since SFRCF is an Academy of Model Aeronautics(AMA) sanctioned club, I also had to join the AMA in order to fly at SFRCF's flying fields. The AMA has defined rules for safe flying and also provides insurance for flight-related personal injury or property damage.
My next step was to determine what kind of plane and equipment to buy. Since I wanted to make the right purchase decisions and wanted to explore the many possibilities, I initially attended club meetings and flying events as a spectator. At the meetings and events, I was able to look at many kinds of aircraft and benefit from the advice and suggestions of the pilots.
While I was accumulating the information I needed to purchase my own plane and equipment, I decided to invest in an RC flight simulator.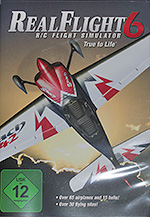 Using a flight simulator is a great introduction to RC flying -- without the risk of an expensive "real" crash. Using the simulator helped me learn the basics of RC. Most importantly, the simulator helped me learn the correct stick control for an approaching aircraft (something even "real" pilots find difficult). As I progress in my flight training, I will be able to practice more advanced flying maneuvers on the simulator first.
I found a suitable training aircraft at a price I could afford. I was fortunate in finding a Ready to Fly(RTF) package that included an electric-powered aircraft with a new technology 2.4GHz RC transmitter and receiver.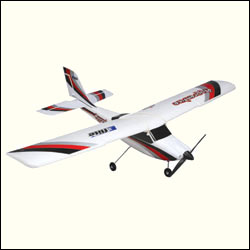 After receiving and assembling my new aircraft, and on the next good flying day, I reported to the field ready for my first flying lesson. Bob Beatty, my flight instructor, taught me how to ground-check the aircraft. Bob then made the maiden flight to trim the flight controls. After completely flight testing the aircraft, Bob safely landed the plane and taxied it back to the flight line.
The next flying day, and after recharging the flight battery, Bob taxied the plane onto the runway and, after a successful take-off, allowed me to assume control and actually fly it. I could do this safely because my transmitter was linked to the Bob's transmitter by a cord that allowed him to resume control at any instant. What a thrill! After about 10 minutes, Bob resumed control of the aircraft and made a safe landing.
Since my first flight, I have had many more training sessions. There have been a few "close calls" but I was "saved" each time by my instructor. A few times, I let the plane get too far away and lost "orientation": I was not sure just what stick control to use to bring the aircraft back. Again, my instructor resumed control and brought the plane back so that I could continue flying. Once or twice, particularly when it got a little too breezy, I had Bob "bring it back alive" and safely land the plane.
After several sessions, I was allowed to control the plane during take-off. Ramping up the engine to full power and trying to keep the plane rolling straight down the runway was a little scary—particularly if there was a breeze. Because of the large rudder/stabilizer area, a cross-breeze could cause the plane to turn off the runway. This required learning how to manage the throttle, rudder, and elevator in order to achieve a good take-off.
At the end of the flying season, I did manage a couple of landings. True, the landings were "bouncy" but I was still able to land the plane and taxi it back in one piece. The day I was able to complete a take-off, flight, and landing (still attached to the safety of my instructor's transmitter) was a "red letter" day! I had previously been concentrating on keeping the airplane in the air and it was quite a switch to cut the power and allow the plane to fall towards the ground—on purpose. I am looking ahead to the next good flying days to continue my landing practice.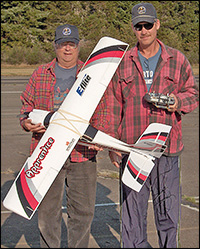 In the Pacific Northwest, our flying days are somewhat limited. I will need a lot more flight training before I can qualify for my "wings." I am looking forward to some good flying weather so that I can resume my training. In the meantime, I will continue to practice on my flight simulator. At the same time, Bob, my flight instructor, can fully recover from the stress of protecting his student from catastrophe.
Thanks to everyone at SFRCF who have given me the advice and encouragement that has enabled me to reach this point in my new flying career.
References
---



I hope you enjoyed this article,




Royce Tivel


---
© Copyright 2008-2009 by Royce Tivel. All Rights Reserved.